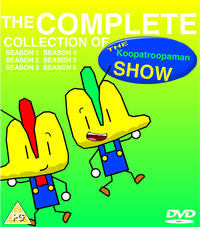 The COMPLETE Collection of The Koopatroopaman Show (The Koopatroopaman Show: All 6 Seasons in 1 Box in other countries, クッパの男ショーボックス内のすべてのシーズン!(Kuppa no otoko shōbokkusu-nai no subete no shīzun!) in Japan) is a set of 7 DVDs.
It contains all seasons from The Koopatroopaman Show and a exclusive DVD with 3 episodes from The Felipebross and Eddybross Show (Apocalypse Now, A Work At Pizza Bross and THOSE MEEN!), 5 shorts from Koopatroopaman Shorts (A Weird Day Working At Burger King, An Drop of Elevator, Sucked into SMB, The Pizza Caper and Goodbye Ericbross) and the pilot from What A Cartoon!.
DVD Releases
Gallery
Trivia
In Japan, A day in the life of a Flea (from TFBNEBS) was included in The Exclusive DVD.